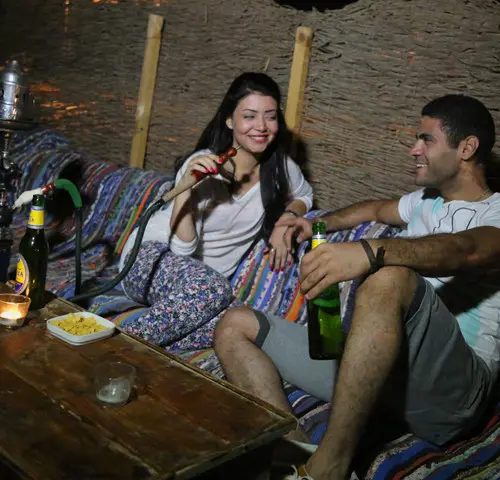 Bedouin Night
(Wadi Gnay, Wadi El-Bidaa, Wadi Connection, or Lagoona).
Jeeps Leave the Hotel at 6pm for Bedouin Party includes: tea, supper, playing music enjooying the atmosphere of the desert between mountains
Bedouin
refers to a nomadic desert dwellers, such as the Arabian deserts, the Sahara, They are Arabs and follow Islam. They consider Ismail as their master father.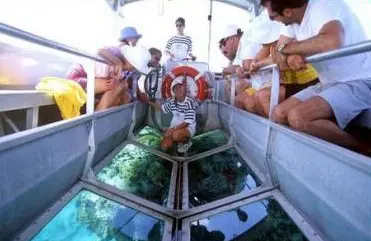 Glass Boat
You can admire the most beautiful reefs of Dahab in a glass boat simply and comfortably. From comfortable seats, you can enjoy the extraordinary underwater world.
Our company realizes that not all customers are water-sports people. We added this trip so that familes with children and perhaps the not so active elderly family members could enjoy some time together at sea in a comfortable atmosphere.
We will pick you up from the hotel in the early afternoon and will drive for around 10 minutes to the Glass Boat dock. Jump on board and enjoy your trip and snorkeling. you'll be taken back to the dock and driven back to the hotel.
glass boatNot too far from the Egyptian coast you can already find wonderful coral reefs, inhabited by myriads of colorful fish. Observe a great piece of nature just by watching downwards through the glass bottom, sitting comfortably on your seat.
The trip will take about two hours, so in the early afternoon you will be back in your hotel in Dahab.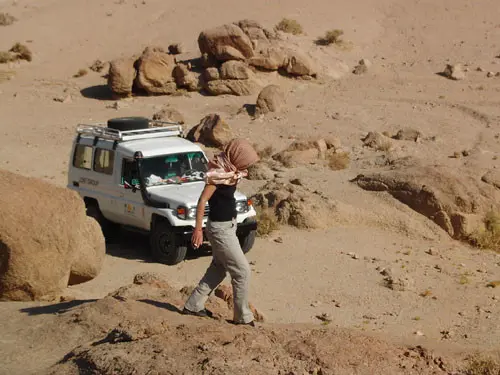 Safari
Beside the magnificent diving and snorkeling spots there are a lot of wadies and oasises around. You can discover the Bedouin life style and enjoy sunset or sunrise at Wadi el-Bidah, Wadi Connection or Wadi Gunai.
You can also make one day trip to Colored and White canyons via miraculous Mushroom Stone and oasis Ein Khodrah.
Sinai is a mix of contrasts. A desert interior full of history, where Moses received the Ten Commandments en route to the Promised Land, the Pharaohs found gold and searched for their gods, and where the Bedouin's camp beside ruins of Crusader Forts. Christianity, Judaism and Islam know Sinai as a holy land and over the years prophets, saints, pilgrims and warriors have crossed this vast nothingness.
Here are only a few places in the world where a first-time visitor is confronted with a mountainous desert landscape as spectacular as that of the Sinai.
You will actually trek into the heart of the desert on camel, by foot and by jeep. You will visit some of the awesome Sinai canyons and spend time with a Bedouin tribe, learning about their techniques of survival in this harsh desert environment, and to explore the Mount Sinai area by foot. To top it all sleeping under the stars in the desert is a most breathtaking and soul recharging experience.
In the solitude of the deep desert the silence becomes intense. Sitting amongst the changing colors of the rocks of the desert as the sun sets, without a sound to be heard, it is easy to see why so many people have chosen the desert as a place of retreat.
So Miami Beach invites you to discover the splendor of the Sinai by means of various trekking routes. Dahab is the perfect basis for daily trips, or even longer tours in the mountains.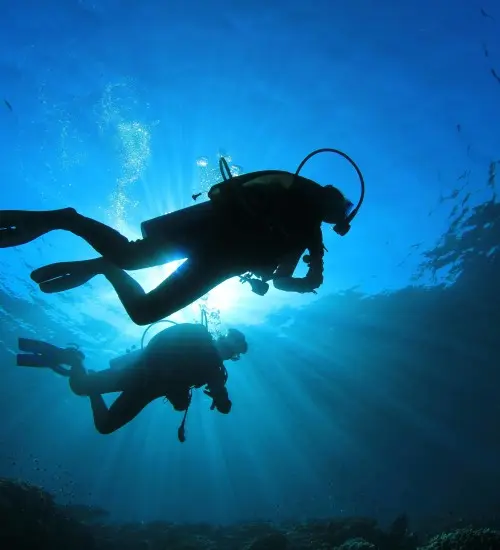 Diving
Some general information.
Air temperatures: reach 40°C (104°F) in August and fall to 20°C (68°F) in the winter
Water temperature: 20°C (68°F) in February to 27°C (81°F) from July to October
Suit: 3 mm or 5 mm wetsuit (November – April), shortie for rest of the year
Visibility: 20–40 metres (65–130 feet) on average
Type of diving: Reefs, walls, wrecks
Marine life: turtles, blue spotted rays, jacks, snappers, barracudas, lionfish, reef fish, colourful corals, octopus, many different kinds of fish
When to go.
Any time of year, although if you prefer really warm water it is best to visit the Red Sea between June and September.
Diving is extremely popular in Dahab and the reefs here are still in relatively good shape.
Known dive sites include Abu Helal, Blue Hole, The Bells, Canyon, Coral Garden, Eel Garden, Lighthouse, Moray Garden, Islands, Three Pools, Gabr El Bint, Ras Abu Gallum.
Diving in Dahab is mainly shore based with easily accessible reefs right on the shoreline. This means there's no mad rush to the crowded jetty at the crack of dawn; the journey from the divecentre to divesite is made in the back of one of our 4-wheel-drive jeeps. We will always leave on time, and we will ensure you are treated as guests, and not as a tour group. Also you can choose the dive sites by yourself.