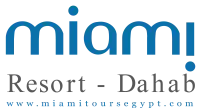 "Dahab" means "Gold" in Arabic, coming from the fine yellow sand you found on the beaches.
Dahab is located in the south of Sinai around 90 km to the north from Sharm-el-Sheikh at the Red Sea. Dahab offers perfect conditions for divers and windsurfers.
Enjoy your stay in Dahab
You may stay here only for relaxation or go with a tour to mountain Moses,
find yourself in diving or snorkeling at the amazing coral reefs and
windsurfing or kitesurfing. The oasises give you the chance to stay away from the troubles and to get a quiet and calm impression of the desert and the easy natural life.
The Bedouins are still living in this area for the steadiest climate the whole year.
Here in Dahab you will find accommodations for every pocket. From five-stars hotels to cheap backpacker camps.